MARINE BOAT RAIL TRACK SYSTEMS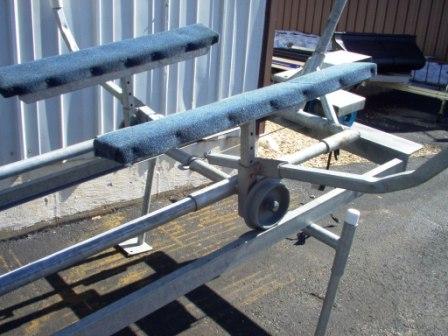 Eliminate the elements from attacking your boat
Long lasting
Sturdy and durable
Great service
Exceptional quality
Easy and Safe
Fits pontoon or run about style boats
Sections are 10′ long x 3′ wide
Remote controls available
Sections weigh under 100 pounds
Single bolt installation on track sections
We sell both a gravity or a power-drive/push-pull system. Talk to one of our professionals to help decide which option is best for your lakefront.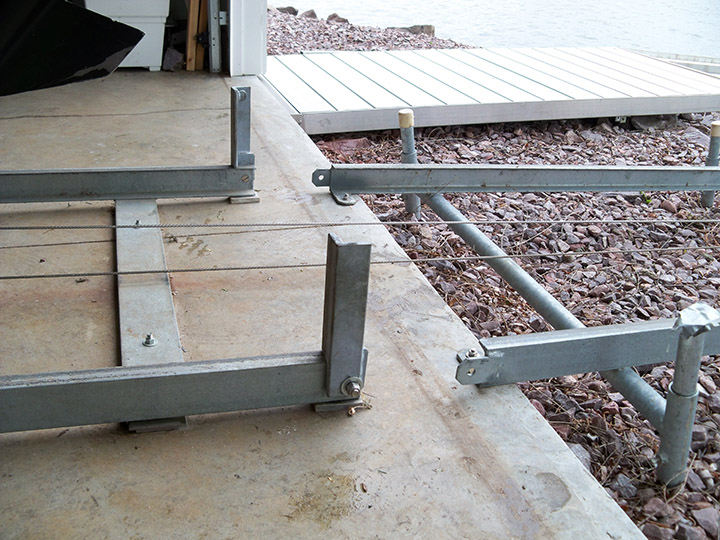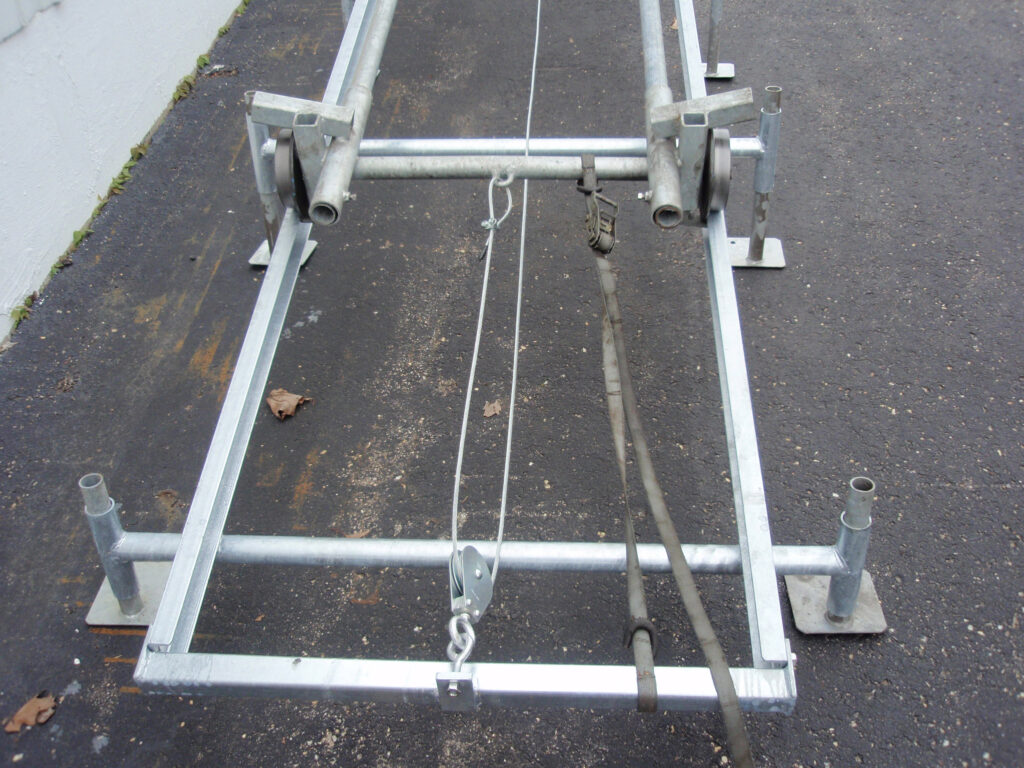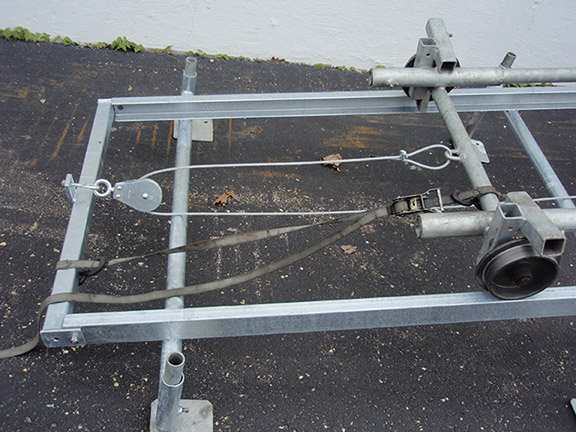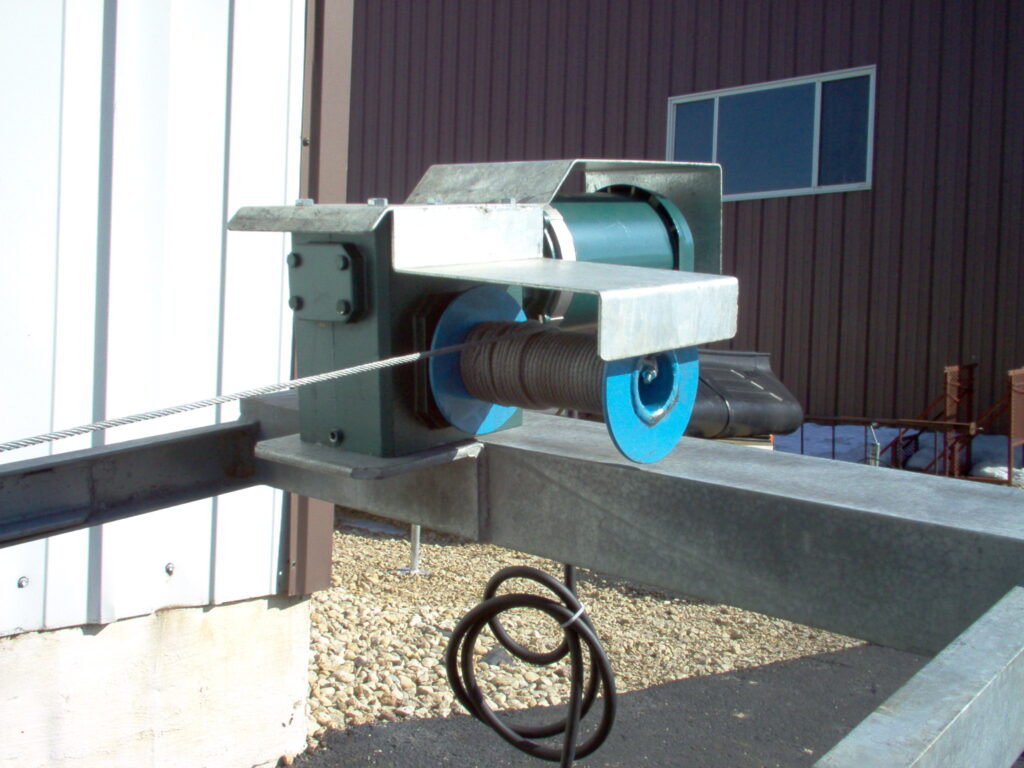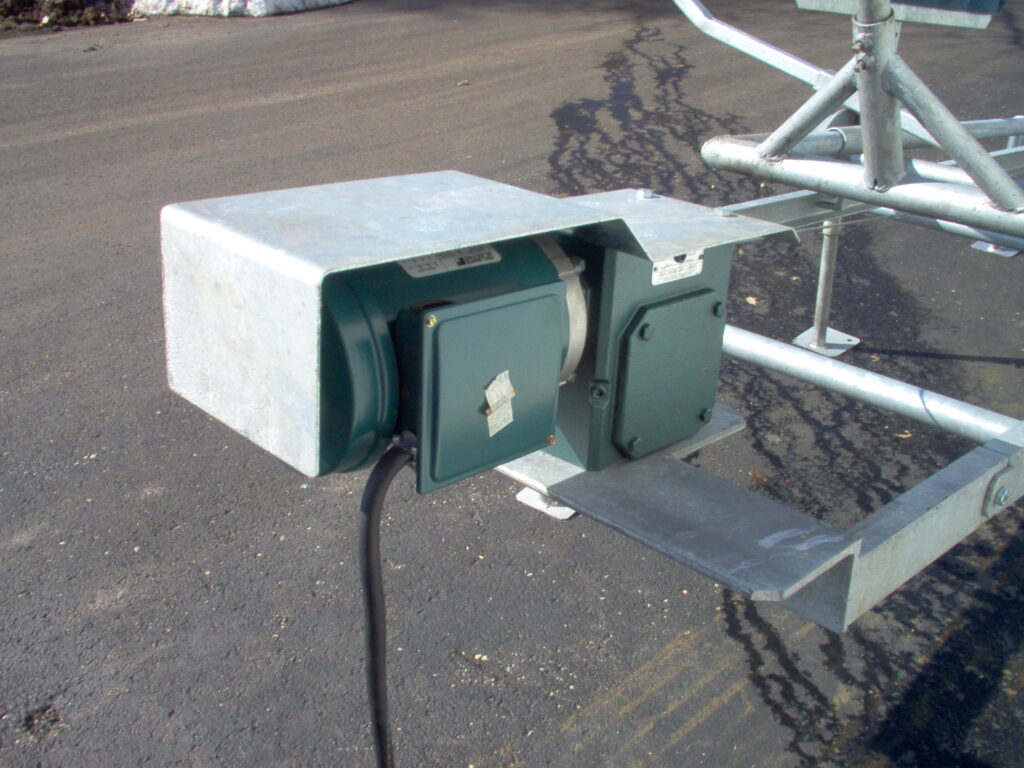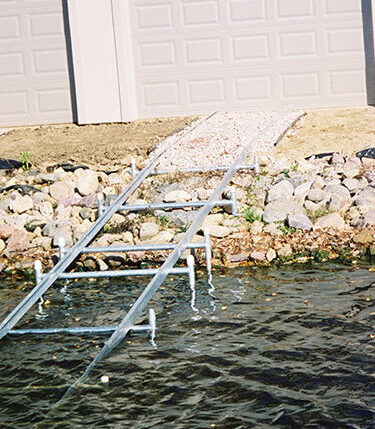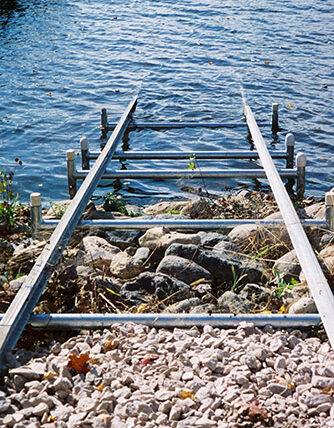 Winch Specifications
Installation: The winch must be firmly and rigidly anchored to a solid foundation.
Capacity: See chart below. Motor: 1 HP 1725 RPM, 110v AC 20 Amps or 220 v 15 amps preferred. (1-1/2 HP available) 
Cable: 1/4″ diameter steel cable. Dolley travel speed: 21′ per minute. 
Gear Ratio: 80 to 1 Gearing: Aluminum self-contained oil-filled right angle gearbox 
Switch: Drum style with Momentary on, forward/reverse selectable 
Remote Control: Can be wired 110v or 220v
Note: Track angle or grade determines winch capacity. (Larger units available)

Winch Specifications with Rise vs. Rolling Load Capacity

Diagram for laying track in concrete
Top View
(of a track section with wood blocking on the inside of the track)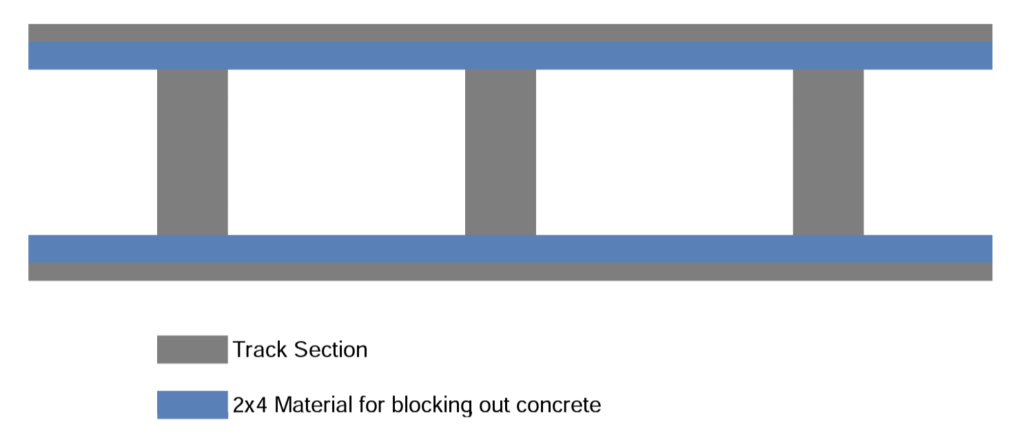 Inside Side View
Track section should extend 4″ beyond the concrete to allow for next section to connect.


Maximum drop of first section is 6″ to prevent the carriage from scraping the concrete as it leaves the building. Inside side view end view 
Note: Point "Connection Tabs" toward drive unit away from lake.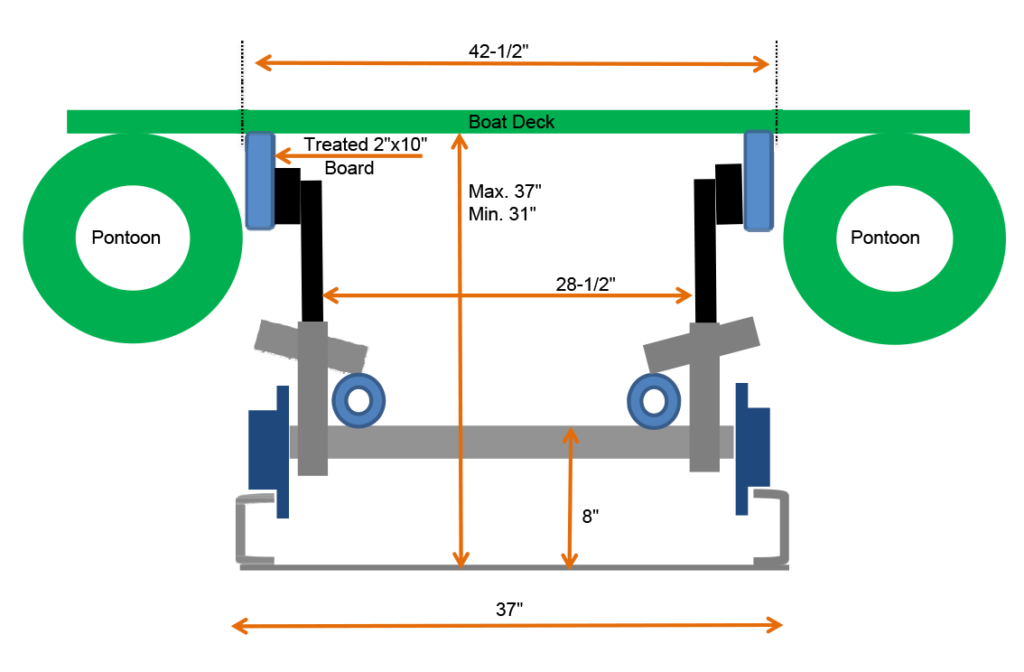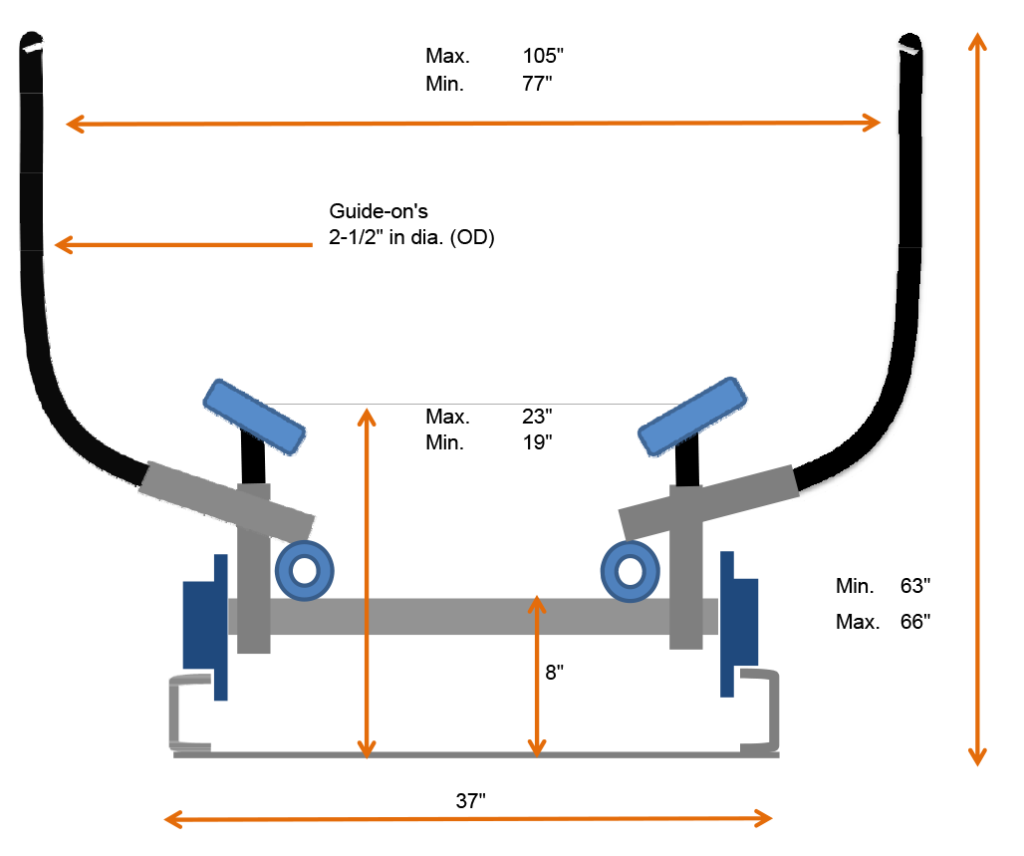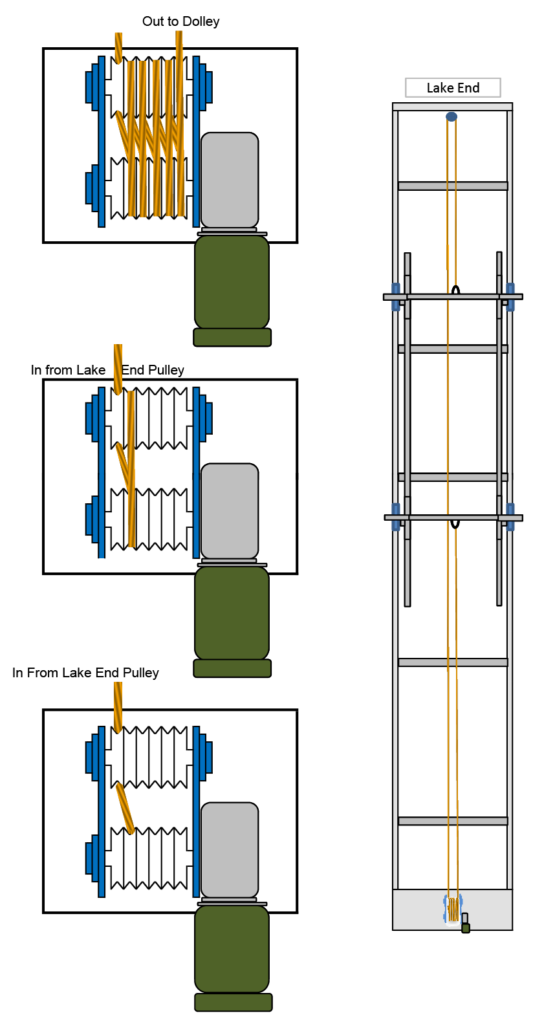 Marine Rail Track System FAQ
What should I do to maintain my Endres Marine Rail Track System?
1. Check for frayed cables and /or binding pulleys.
2. Grease all components at least once a year.
3. Check to make sure all connections are secure.
4. Make sure you are familiar with all of the parts of your system.
5. Keep the track and dolley free of weeds and debris.
Can I put either a run-a-bout boat or a pontoon boat on my Marine Rail Boat Track System?
Our system can accommodate run-a-about boats, deck boats and pontoon boats. Custom boat dolleys are available.
What is a gravity Marine Rail Boat Track System?
The gravity system means that it works like a simple winch system. Gravity takes the boat down the track (sufficient drop in the track is required) and the winch pulls the boat back into the boathouse or up on to shore.
How does the remote control work for the Track System?
The remote is placed between the motor and the power source. The control is a small remote that will fit on a key chain. It works basically the same as a garage door opener.
What pitch is required the Endres Marine Rail Track System in order to keep the dolley rolling down the track?
We recommend at least 6†per 10 feet.
What do I need to do if I purchase a new boat?
The dolley is adjustable, so it may only be a matter of taking a few minutes to readjust the guide arms or possibly the dolley length.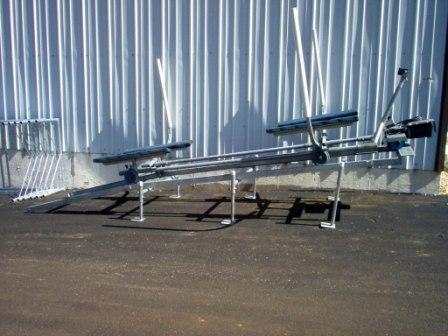 Tracks must be sloped at a minimum of
6″ per 10′-0″ to keep the dolley rolling.
The spool travels at roughly 19′ per minute.
Motor 110 or 220 volt, 20 amp fuse required for 110Volt.
Remote controls available.
Adjustable dolley length. Boat guide-ons.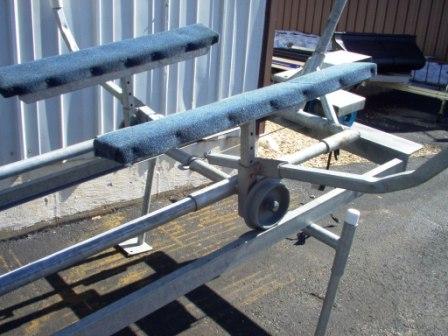 Dolley "keepers" prevents the dolley from jumping off the track. Adjustable bunks and boat guide-on arms.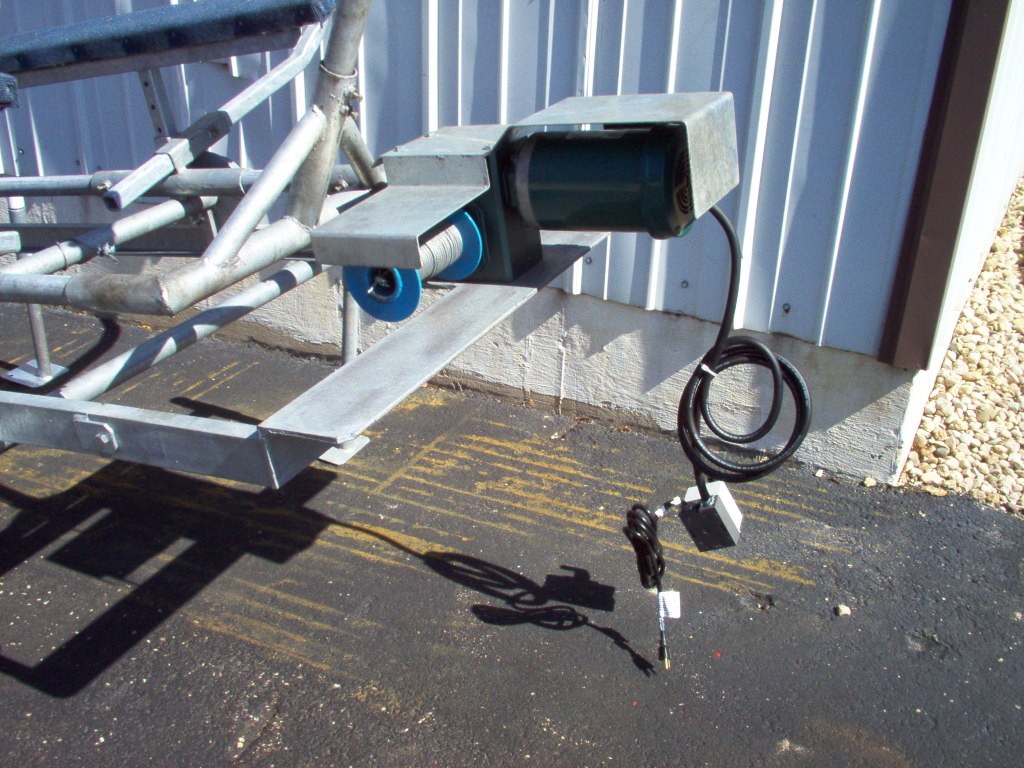 Motor cover for outside protection. Head section to mount motor to the track system.
Discover what Endres can do for you!