Endres Manufacturing Company Foundation, the company's philanthropic arm, is proud to be involved in a community that gives back. Look around and consider all the resources, services, arts, and sports venues, health initiatives, and innovations that would not exist if not for philanthropic human beings. We are pleased that we are able to provide approximately $300,000 to community services annually. Since its beginning in 1996, EMC Foundation has given over $2.5 million to area non-profits in our 20-year history.
Wow! Every grant review period becomes more challenging and more motivating! In November 2022 our Foundation Trustees awarded grants to 22 non-profit agencies, for a grand total of $164,500.
Click here to go right to the grant application instructions!
We attempt to be balanced in our giving, providing resources to such things as education, technology, business, environmental issues, the arts, and human services. We annually partner with Dane County Cultural Affairs Commission to provide more distance for each dollar, and consequently we make an effort not to duplicate our gifts to the arts. We are a part of the Madison College Century Scholarship Endowment program and provide a scholarship to Waunakee High School. We sponsor a Big Brother/Big Sister with an annual gift. We are a part of the new Ronald McDonald Family Home at St. Mary's Hospital, the new animal hospital at the Henry Vilas Zoo, and most recently the new Waunakee Neighborhood Connection facility in Waunakee. All terrific projects!
U.S. citizens gave $157.7 billion in charitable gifts in 2010, or approximately 3.1% of total taxable income.
Wisconsin residents gave $2.3 billion or approximately 2.6% of their taxable income.
If Wisconsin residents gave at the level of the national average, it would send $452 million more to charities and non-profits.
There are 4,250 non-profits in Dane County, and 19,000 in Wisconsin.
35% of Wisconsin residents volunteer for community non-profit work.
To make a donation or to receive more information please contact Diane Ballweg.
The Foundation achieved their goal to grow the funds to $1,000,000 by 2006, the tenth anniversary, and continue to grow the funds. Our present annual giving level is approximately $100,000, with grants ranging from approximately $1,000 to $25,000. Grant requests are reviewed twice a year, in May and November.
The EMC Foundation Goals:
• Give impacting gifts
• Focus on community priorities
• Promote collaborative matches
• Foster philanthropic development
• Not be a sustaining donor
All grant gifts are made possible through the generosity of Endres Manufacturing Company and the donations of the following friends and employees who work to quench the world's thirst:
Endres Mfg. Company
Diane Endres-Ballweg
Ken Ballweg
Ron and Sheila Endres
Bob and Shirley Kopp
Gordy and Jean Acker
Mike and Deb Palm
Ben Ballweg
Cubby and Elaine Wolfe
Wauktoberfest
Sam and Annie Ballweg
Tom and Connie Lange
Kevin and Karen Ripp
Gene and Molly Button
Wayne and Tracy Hellenbrand
Your contribution to the Endres Manufacturing Company Foundation makes a positive difference.

Whether it's the new DAIS Shelter to protect abused women and children, a Halloween party for people with special needs that Catholic Charities serves, a fishing trip for the handicapped through Adaptive Sportsmen, beds and cribs for the YWCA families, the Ronald McDonald wing at St. Mary's Hospital, new equipment for the Waunakee Fire Department, or music scholarships for underprivileged children, many great causes and worthy people are served by EMC Foundation funds.
Endres Mfg. Company gives a percentage of their annual profits, and with your additional help, the fund has grown to over $2.5 million in the past 12 years. Annually, approximately 40% of EMC Foundation funds go to children and family programs, 25% to education and business mentoring, 25% to the arts and cultural groups, and 10% to environmental concerns. All donations go directly to area non-profits, and no salaries or operation fees are taken from the foundation funds.
As Helen Keller once said, "Alone we can do so little. Together we can do so much." Join us in our effort to make EMC a community contributor and asset builder. Your gift means so much to those who are receiving it.
You can make a tax-deductible contribution to EMC Foundation by writing a check and dropping it off at the company office, or mail it to 350 S. Hamilton Street, Madison WI 53703. It's that simple. Your gift will make a difference.
Thank you.
To make a donation or to receive more information please contact Diane Ballweg. Email Diane here.
When are the grant request deadlines?
May 1 and November 1, with responses being made by the end of those months.
What is an appropriate size grant request?
Typically the smallest grant given is $500 and the largest is $20,000. The Foundation tries to be creative in funding, sometimes giving matching challenges or funding part of a project with suggestions for additional funding sources. It depends on the request.
Are there any recommendations?
When making a request, it is helpful to provide the Foundation trustees with some levels of giving and options. For example: Big Brothers Big Sisters sponsored an event with giving levels at $1,000, $2,000, and $10,000, and in their grant request they clearly defined what was covered at each level.
Can we submit more than one grant request?
We recommend only one grant request per period. You may submit a new request for each grant review period. Again, each request is studied and evaluated individually, so occasionally the Foundation has given to a particular organization multiple times. In other cases, the Foundation seeks to impact the community in a variety of ways, so we don't want to become a regular funding source for a limited population.
Is there a particular area of interest for the Foundation?

Our primary focus includes programs that impact our community and our employees. If there is a connection to either of those areas, we pay particular attention to the need.
Where do I send the grant request application and materials?
Applications must be emailed directly to Diane Ballweg. Click here for grant application instructions.
Since its beginning in 1996, EMC Foundation, the philanthropic arm of the company, has given over $1,000,000 to local and area non-profits. Their philosophy is reflected in this quote from G. Donald Gale, who offers this insight to giving:
"A pessimist, they say, sees a glass of water as being half empty; an optimist sees the same glass as half-full. But a giving person sees a glass of water and starts looking for someone who might be thirsty."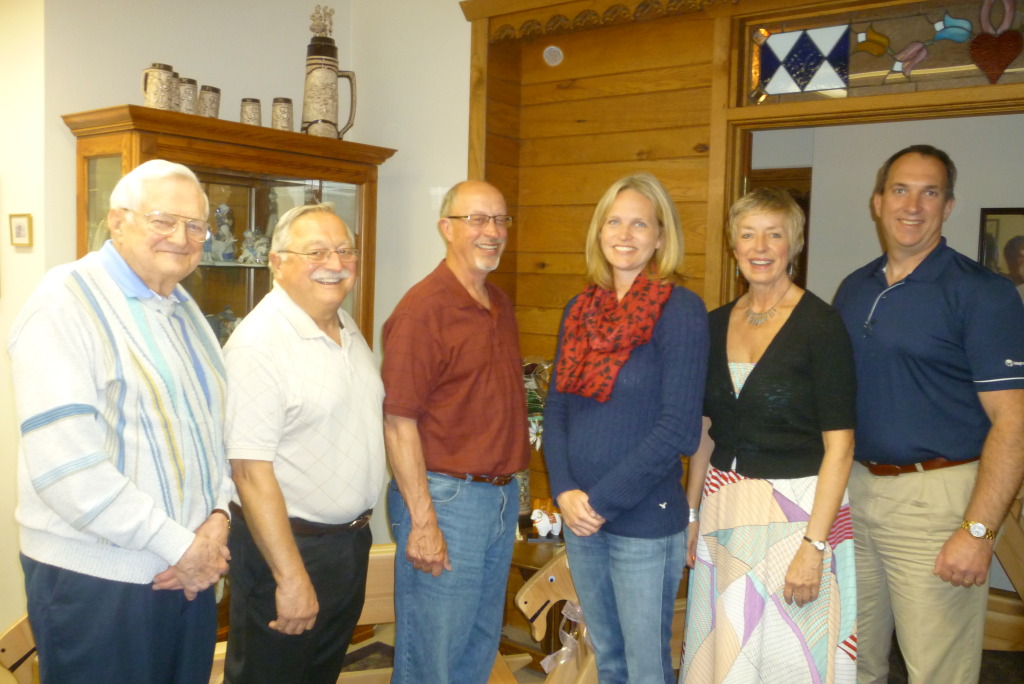 EMC Foundation Trustees Are: (on three-year staggered terms)

Diane Ballweg, President
Diane Ballweg is the president of the Endres Manufacturing Co. (EMC) Foundation, which helps direct $100,000 to nonprofits each year. She is also involved with 20 different boards and organizations around Madison, and she was a lead donor to The Stream, Edgewood College's stunning new visual and theater arts center.

Gordy Acker, Vice President
Gordy Acker served in the Army Reserves for six years. Gordy worked 39 years at Endres Mfg. Company as a welder. During that time, Gordy volunteered on the Waunakee Fire Department for 29 years. Now, during his retirement, he is involved with the Waunakee Food Pantry, EMC Foundation Board and St. John Cemetery Committee. He loves watching his grandchildren's soccer games and he enjoys traveling with his lovely wife Jean.

Mike Steinl, Treasurer
Mike graduated from the UW-Madison with a B.B.A. in Accounting and is a partner with Wegner CPAs. As a Partner in the firm's Tax & Business Services Department he leads Wegner CPAs' Manufacturing/Supply Chain practice group. With more than 25 years of experience in public accounting, he has worked with a broad cross-section of clients. He is involved with several community non-profits in his community of Waunakee.

Annie Ballweg, Secretary
Annie is the Secretary for the EMC Foundation. She received her undergraduate degree from UW-Madison and her Master's of Education degree from Boston University. She was a high school guidance counselor in Boston and Malibu before moving back to her hometown of Madison. She was the founder and President of Train2Race, LLC which trains athletes for endurance athletic events. She is presently a board member of the Waunakee Public Library and the Young Leaders Board for the American Family Children's Hospital. She is married to Sam Ballweg, President of EMC, and they live with their three children in Waunakee.

Joseph Boucher
Joe grew up working in his family's bakery business. In addition to his law degree from the University of Wisconsin-Madison he has an MBA in finance and is a CPA, and is a Professor at UW- Madison Business School.
Nick Palm
Nick graduated from St. Norbert College with a degree in Accounting and a minor in Spanish. Nick was born and raised in Madison and is now part of his family's investment team at UBS. His team works closely with small business owners, individuals and families to help understand their investment needs and financial goals. Prior to UBS, Nick worked in the public accounting industry for 5 years by providing a wide range of technical accounting and audit services to his clients. In Nick's free time, he continues to be a positive role model for his "Little Brother" through his involvement in the Big Brother Program, which began in 2008. He also enjoys attending sporting events, running, playing tennis and boating.

Jackie Ballweg
Jackie graduated from UW-La Crosse with a degree in Accounting. She is in charge of Accounting and Human Resources for Edge Consulting Engineers. Prior to Edge, Jackie worked for Thrivent Financial as a Licensed Financial Assistant. She is a member of the women's group at her church and served as Treasurer and President. She served on the Grant committee for Grade School Partners in Education. Jackie enjoys camping, volleyball, and attending her children's sporting events. Her husband, Nick, has worked for EMC for over 22 years.